Procurement Leader 2020
We are delighted to announce that Philip Gurnett, EPS Director & Head of Sourcing Education, received the Procurement Leader 2020 award at the National Procurement Awards ceremony (digitally-formatted) on 16th December, 2020.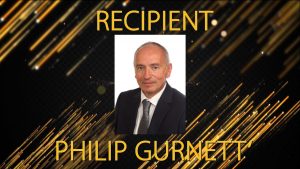 Philip has a successful track record of achievement as a leader and senior manager in the public and private sector spanning three decades, demonstrating the necessary vision, knowledge, expertise and resource management skills to align strategy, drive improvement and influence performance.
Philip successfully positioned the Education Procurement Service (EPS) as the Department of Education and Skills (DES) sector sourcing hub under the Office of Government Procurement (OGP) model.  In 2013 he was appointed to the OGP executive as Head of Sourcing Education with responsibility for implementing and operating the centralised procurement model and he is responsible for sourcing education procurement spend of approx. €900m per annum.
As Director of the EPS, he has established and developed a business model and change management strategy to on-board the model and has delivered savings of over €20m to date. Through his strong leadership and change management, he created a national shared service where he oversaw the centralisation and transfer of education sector procurement tendering functions to one shared office, including the recruitment and the development of staff and the design and implementation of new systems of administration and finance. Key to his success is his ability to form trusted relationships with the senior accounting officer groups of the University, IoT and ETB partners.
Philip's visionary leadership was the driving force behind the establishment of the EPS.  Working with the Department of Education in driving the shared services plan in the sector, Philip has forged close working relationships across the complexity of representative bodies including the Higher Education Authority (HEA), Irish Universities Association (IUA), Technological Higher Education Association (THEA) and Education and Training Boards Ireland (ETBI).